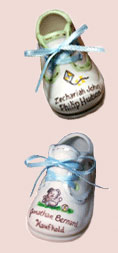 Unique Baby Gifts
Are you looking for a precious and unique baby gift? You've come to the right place... HandPaintedBabyShoes.com features one-of-a-kind customized porcelain shoes, each handpainted with the child's name, birth weight, time of birth and length.
---
Custom Baby Shoes
Hand Painted
Each shoe is carefully handpainted to ensure the utmost quality. We use the highest quality paints and materials resulting in a precious personalized gift sure to please everyone.
Kiln Fired
Each shoe is fired in a kiln to preserve the artwork that has been placed on the shoe.
---
Our Products
Colorful and Unique
We have many different designs to complement your decor and tastes.
---
Order Your Baby Shoes Online!
Secure Online Ordering
We offer secure internet ordering and accept a variety of payment options. We will never abuse your personal information..